The Mariemont Preservation Foundation has a number of historical publications and other items available for purchase.  See below for descriptions and pricing for ordering on line. If you wish to order by check, please contact Mariemont Preservation Foundation, 3919 Plainville Road, Cincinnati, Ohio 45227. Tel:
513-272-1166. Email: administration@mariemontpreservation.org
MPF Members receive a 10% discount on Gift Shop items 
-ooOoo-
MARIEMONT PUZZLES

Five photographs of Mariemont scenes by local photographer and resident Joe Stoner have been selected for these special Mariemont Puzzles.
Great gift ideas to share with family and friends.
Order now while stocks last!  Each puzzle contains 504 pieces. Size 16″x20″
NEW PUZZLE!!!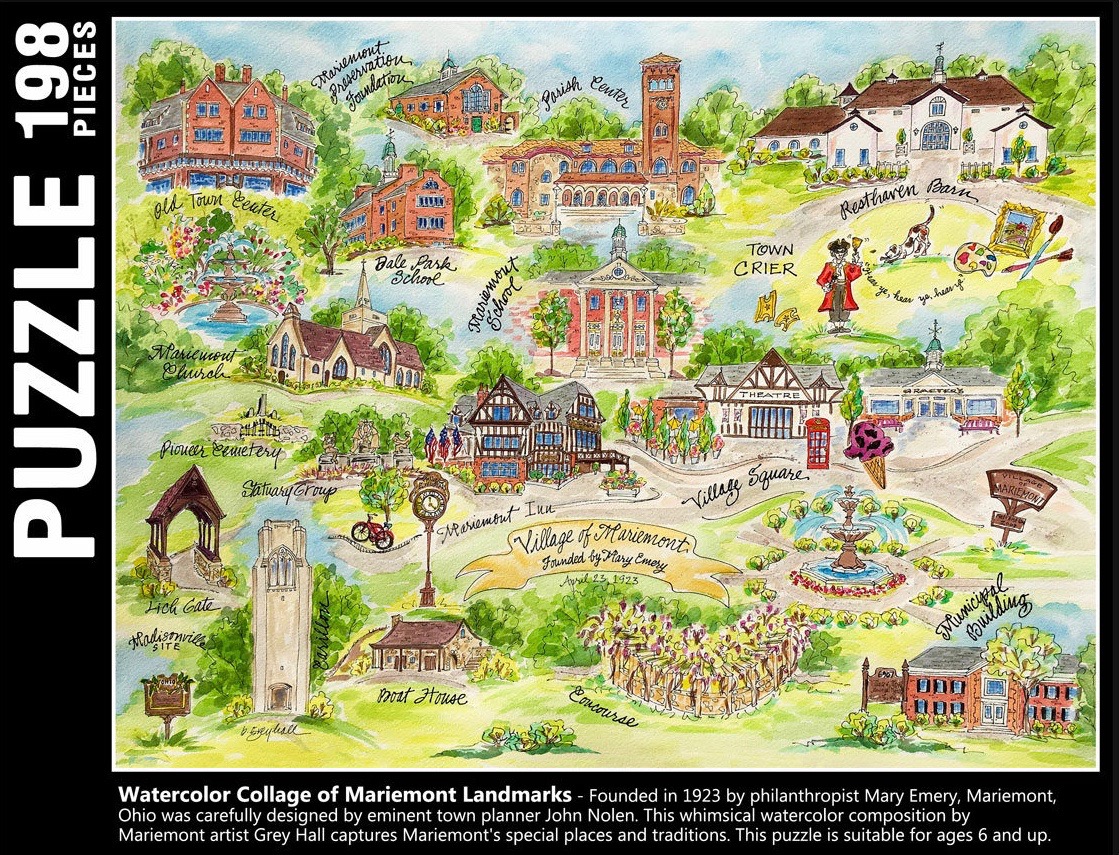 Watercolor Collage of Mariemont's Landmarks.
This whimsical composition by Mariemont artist Grey Hall captures Mariemont's special places.
Size: 18″ x 26″ – 198 pieces
Ages 6 and up
ORDER NOW FOR THE HOLIDAYS WHILE STOCKS LAST!
---
Print Size:  14″ x 11″
Perfect for Holiday Gift Giving!


LIMITED NUMBER OF PRINTS AVAILABLE – Order Now While Stocks last!


Also you may be interested in purchasing a puzzle with the same picture (see Above)
---
The Official Village of Mariemont Flag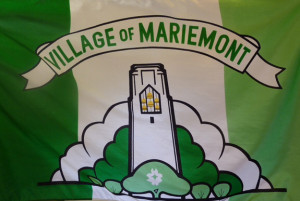 The Mariemont flag, which depicts the Emery Memorial Carillon in Dogwood Park, was unveiled at the Kiwanis Labor Day Festival Sept. 3, 1979, after Mrs. Schwenkmeyer won a design contest.  Carolyn Schwenkmeyer, a well- known artist of children's portraits,  lived in Mariemont for many years.  Her exclusive design is available  here. Size: 3′ x 5″. 100% Nylon. Single-sided print, finished with brass grommets for hanging.  Made to stand up brilliantly outdoors!
Fly it in celebration of the Village on Mariemont Founder's Day, April 23rd (1923).
---

Mariemont: A Pictorial History of a Model Town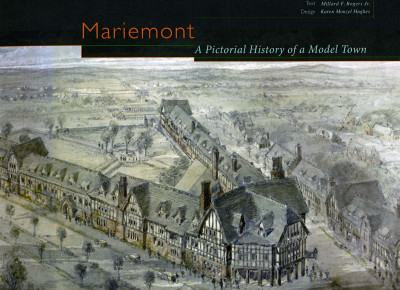 Provides a rare look at the development, from vision to fulfillment, of an entire community.  With archival photographs spanning more than 100 years, this book shows in both word and image the fascinating and influential history of one of the most important planned communities in the US. Millard F. Rogers, Jr. and Karen Monzel Hughes (published by Ohio University Press, 2011)
———————————————————————————————————
John Nolen and Mariemont.  Building a New Town in Ohio.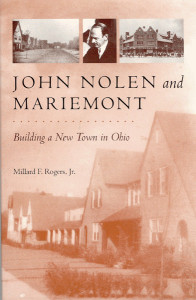 Relying on rarely published materials from the John Nolen archives and other sources, this book details the planning and initial development of the community of Mariemont.  Hired by philanthropist Mary Emery, Nolen worked to transform farmland into a community of mixed-income housing complete with commercial space, playgrounds, and a village green. This is the first book to examine the planning and building of Mariemont and one of the few books to focus on the process of American town planning in the early 20th Century. Millard F. Rogers, Jr. (published by The Johns Hopkins University Press, 2001)
—————————————————————————————————–
Rich in Good Works.  Mary M. Emery of Cincinnati – Art Collector and Philanthropist.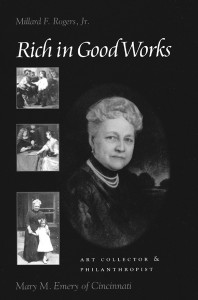 At the death of her husband, Thomas J, Emery Jr. in 1906, Mary Muhlenberg Emery became one of the richest women in the United States.  Recognizing her "vast responsibility" she embarked on a philanthropic program that endowed or initiated children's programs, hospitals, medical institutions, orphanages, colleges, universities, an art museum, a zoological park, cultural agencies, and other causes that benefited humankind.   However, Mary Emery's  most costly benefactions were directed to the founding of Mariemont, Ohio (a planned community near Cincinnati) and to the formation of a major art collection which she bequeathed to  the Cincinnati Art  Museum. Millard F. Rogers, Jr. (published by The University of Akron Press, 2001)
——————————————————————————————————–
A Dream Come True. A Brief History of Mariemont-A "National Exemplar"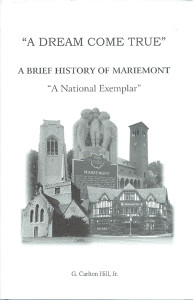 The Village of Mariemont, incorporated in 1941, has a rich history dating back to its first citizens, the prehistoric Late Fort Ancient  Indians who occupied the area between 1400-1670.  Early pioneers  arrived here from Pennsylvania, Connecticut and New Jersey in 1788.  As the new 20th century ushered in an interest in America of the English Garden City suburb movement, Mary M. Emery realized her dream of planning a new town where the quality of family life became the highest priority.  This book reviews the earlier history of the Village and updates the events of the last third of the 20th century in Mariemont. G. Carlton Hill, Jr. (published by the Mariemont Preservation Foundation, 2000)
——————————————————————————————————–
The Mariemont Story.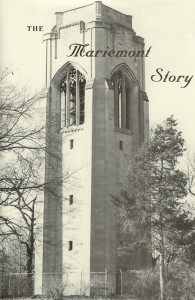 Mariemont was a New Town when it was created in 1923, the result of the foresight and a keen interest in people on the part of Mary M. Emery, a well known, public-spirited, Cincinnati widow.The town was not an ordinary real estate development.  It was carefully planned by a nationally known leader in the field of planning, John Nolen of Cambridge, Mass.  It was rightly called a "National Exemplar in Town Planning". This hardcover book first published in 1967 and authored by Mariemont Company Village Engineer, Warren Wright Parks, includes maps, early aerial photos and progress pictures. (published by Mariemont Preservation Foundation, 4th edition 2000)
——————————————————————————————————–
Pioneers of the Lower Little Miami Valley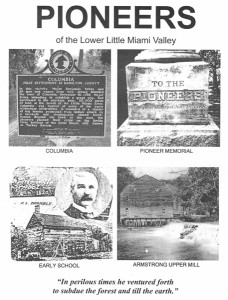 This book tells the history of the first families who floated down the Ohio River and landed their flatboats at Columbia/Tusculum. These included the Ferris, Stites, Muchmore, Armstrong and other pioneer families, who settled the land in and around what became the Village of Mariemont.  They cleared land, hunted for food, planted crops and built their homes, creating the communities of Plainville, Newtown, Madison and Terrace Park. G. Terrence McConville and Fred L. Rutherford (published by Mariemont Preservation Foundation 2005)
———————————————————————————————————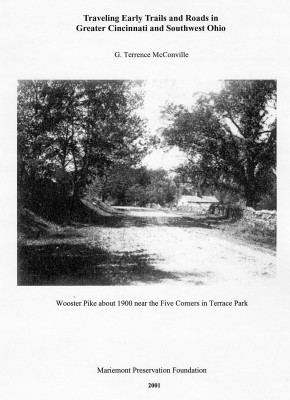 Traveling Early Trails and Roads in Greater Cincinnati and Southwest Ohio When the early pioneers settled this area, travel options were limited mainly to Indian trails.  Over time the settlers built roads and later canals and railroads.  The focus of this book deals with travel between the early communities of Newtown, Plainville, Terrace Park, Indian Hill and Madisonville, and later from this area to Cincinnati, Williamsburg, Reading, Deerfield, and beyond. G. Terrence McConville (2001)
———————————————————————————————————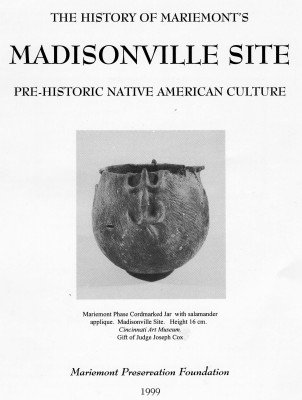 The History of Mariemont's Madisonville Site
A brief history of the Pre-historic Late Fort Ancient Native Americans who inhabited the "Madisonville Site" in Mariemont spanning the years from approximately 1450-1760.   This book describes the known history and lifestyle of these ancient people and the discovery of the Madisonville Site, recognized as a significant archeological site of the Late Fort Ancient culture. Booklet . (published by Mariemont Preservation Foundation 1999)
———————————————————————————————————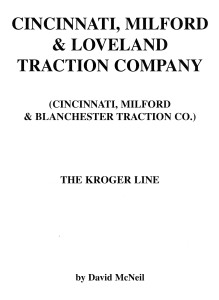 Cincinnati, Milford & Loveland Traction Company – The Kroger Line A comprehensive history with detailed maps and numerous historical photos of the CM&L Traction (1906-1918), later the Cincinnati, Milford & Blanchester Traction Line (1918-1926), and then the Cincinnati Street Railway (1926-1942). By David McNeil.
---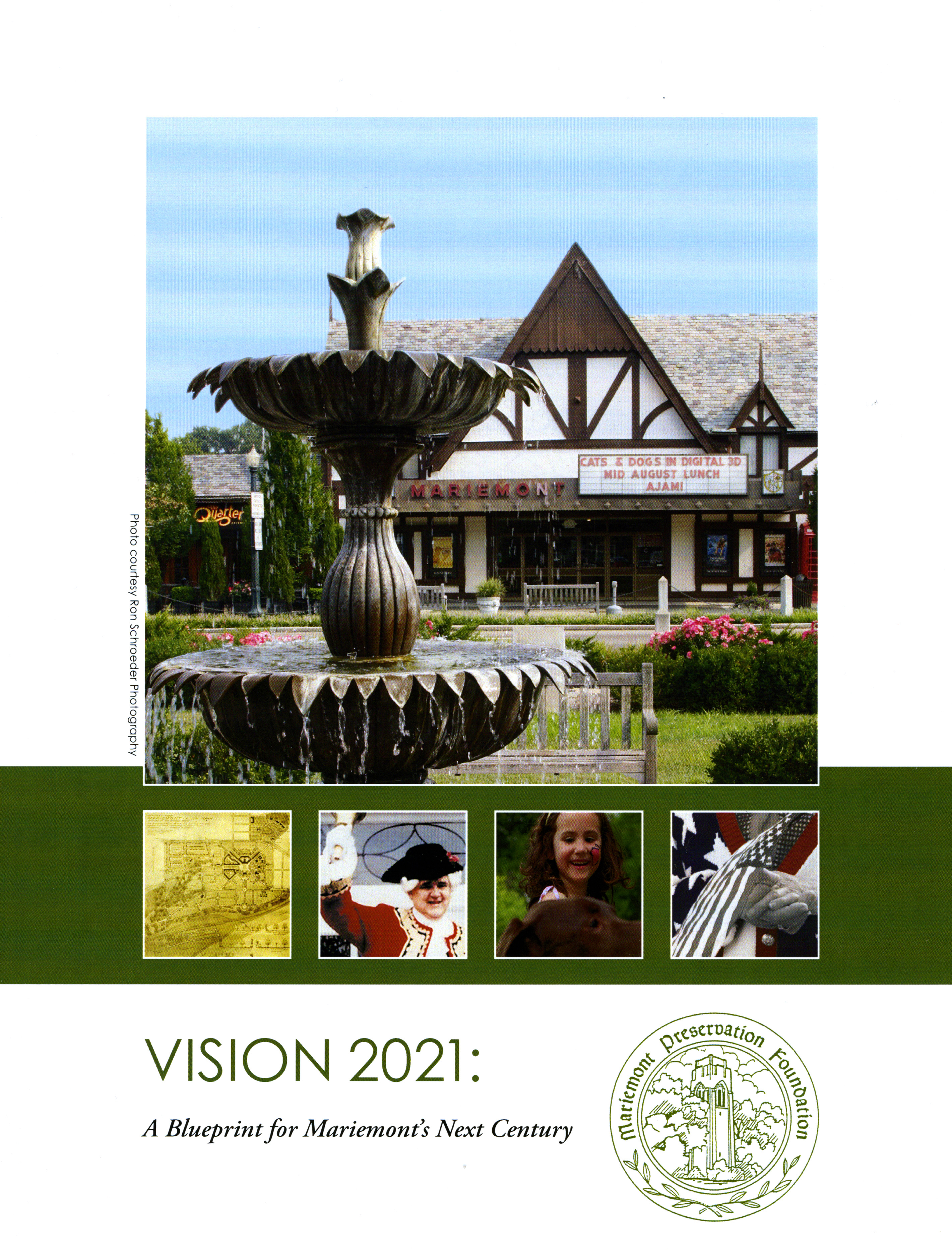 Vision 2021
Visioning is a process for looking into the future in order to define both a community's desired image and values.  This 'Vision Plan' is a comprehensive guide for future Village development and redevelopment. It will create a defined roadmap for future projects. It has been nearly 100 years since the original John Nolen plan for Mariemont was released and is a wise investment for Mariemont's next 100 years and beyond.
---
Mariemont Cupolas Print by John Ruthven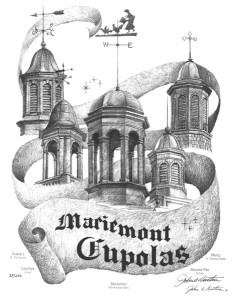 A limited edition 11 x 14 print of a pen and ink drawing by John Ruthven of the unique cupolas that sit atop some of Mariemont's prominent buildings.
A great housewarming or farewell gift idea !
—————————————————————————————————
John Nolen's General Plan of Mariemont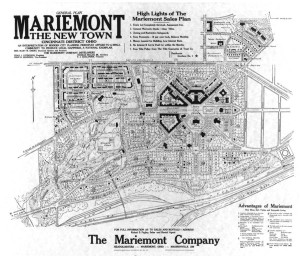 Reprint of John Nolen's 1921 plan for Mariemont showing layout of streets, parks, and buildings (size: 27½"x 22½")
——————————————————————————————————— Mariemont Decorative Plates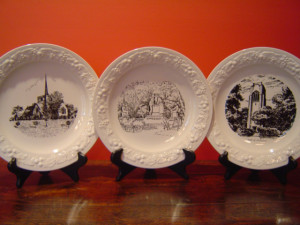 These plates depict three Mariemont scenes: Mariemont Church, the Carillon, and Dale Park Family Statuary. Set of 3 plates: $46.73 (MPF Member;) or $56.07 (non-MPF Member).  Plates are also sold individually: $18.69 (MPF Member) or $23.36 (non-MPF Member)