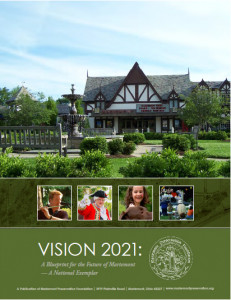 MPF's Board of Trustees has a collective eye on Mariemont's future. We are excited to share with the Village and its administrators our contributions toward a comprehensive 'Vision Plan' to guide future Village development and redevelopment. This plan will create a defined roadmap for future projects. It has been nearly 100 years since the original John Nolen plan for Mariemont was released. We think a Vision Plan is a wise investment for Mariemont's next 100 years and beyond. Vision Plan Committee members David Zack, Frank Raeon, Millard Rogers and Don Keyes worked on this initiative.
Vision 2021 is a good example of what the Mariemont Preservation Foundation has been doing for more than 30 years – providing leadership and resources which have helped Mariemont remain a National Exemplar – a very special place for people to not only live, but to work, learn, and visit.
On September 26, 2011 the Mariemont Preservation Foundation formally introduced our recently published Vision 2021 document to local elected officials. Based upon a collaborative effort lasting more than two years, this important document is intended to act as a "blueprint" for guiding the future of the Village of Mariemont.
Vision 2021 identifies a "basket of ideas" which includes 21 important Themes and 21 Priorities. MPF's hope is that Village Council will, over a period of time, not only embrace but implement many, if not most, of its recommendations.
Some important items which we think are worthy of becoming "next steps" include (a) hiring a full-time Village Administrator, (b) hiring a part-time Historic District Coordinator, (c) expanding our local tax base, (d) seeking grant monies, (e) updating the Village's Zoning Code, and (f) the appointment of a representative, action oriented Vision Commission.
Working closely with Village Council as well as with local boards and commissions, the primary responsibility of the 12-15 member Vision Commission will be two-fold: (1) to develop strategies, time frames, cost estimates, and implementation responsibilities, and (2) to periodically update Vision 2021.
If you are interested in learning more about Vision 2021, please visit the Mariemont Preservation office at 3919 Plainville Road. You can also call MPF at (513) 272-1166 and purchase a copy of Vision 2021. The cost for purchasing this informative, handsome, and well illustrated 50 page booklet is only $10.00. (Mariemont Residents may purchase the booklet for $5.00).
Resolution of Support
On January 29, 2009, MPF received a resolution of support from Mariemont Village Council:
"The Council of the Village of Mariemont supports the efforts of the Mariemont Preservation Foundation to create a Vision Plan which involves Village residents, local organizations, local business people, local property owners, local publicly elected and appointed officials, Village Staff, local school officials, Board of Education members, students attending Mariemont schools, and persons who live outside the Village but have an interest in being involved in helping create a long term vision for Mariemont."
What is a Vision Plan?
Definition of Visioning
Visioning is a process for looking into the future in order to define both a community's desired image and values.
Purpose of Visioning
To create a plan – a "blueprint" or "roadmap" – which can subsequently be used to help guide future public and private investment in the Village during the next 10 years.
Sources of Input
Broad based input includes all of the following "resource" groups:
Village residents
Local elected officials
Local appointed officials
Local organizations
Local business people
Local school officials and Board of Education Members
Students enrolled in Mariemont schools
People working in the Village
Major property owners
Non residents who have an interest in the Village's future
Methods of Input:
 Public meetings
Community surveys
Community workshops
Village website
Mailed commentary and drawings
Vision Plan Components
Local tax base
Open space
Housing
Historic preservation
Redevelopment
Public facilities
Tourism
Schools
Local government
Public amenities
Community enhancements


 

 




The

Vision 2021 Booklet is available for purchase – To order your copy click here